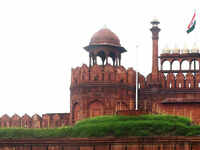 COIMBATORE: There was a need for strong networks between institutions and countries to work in areas such as food and nutritional security, biodiversity and climate as they were crucially interlinked platforms, said Tamil Nadu Agricultural University vice-chancellor N Kumar.
He was speaking at the inaugural session of the three-day networking workshop on 'Balancing Climate, Bio-diversity and Food security – Towards a Global Alliance' which began in TNAU on Monday.
The workshop is being conducted along with Queen's university, England and Global Challenges Research Fund (GCRF) is conducted from March.
Kumar said while there had been achievements in the area of food grain production and increasing nutritional security by way of increased horticultural production, there was much more work to do in the areas of climate and biodiversity.
He said TNAU had initiated studies on physiological changes occurring in crops due to the increase of temperature up to 4°C-5°C. He said technologies evolved by the Environmental Sciences Department of TNAU helped combat straw burning issues in Punjab and Haryana.
K Ramasamy, former VC of TNAU, in his felicitation address, said 40litre to 75liter of wastewater is being generated for every kilogram of industrial products, and nano-filtration was a viable technology for reuse of such water.
["source=timesofindia.indiatimes"]