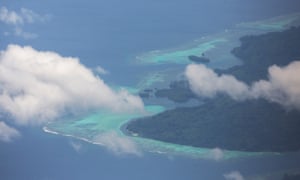 A second security firm operating in Papua New Guinea said it was open to taking the $423m Manus Island contract handed to Paladin but was never approached by the Australian government.
Loda Security has previously worked on Manus Island as a subcontractor at the regional processing centre on behalf of the Australian government, and said it would have been interested in the contract ultimately handed to Paladin in an effectively closed tender process.
The Department of Home Affairs has previously said it approached Paladin directly because the firm was operating in the environment, had previously worked for the Australian government as a subcontractor, and because larger firms weren't interested due to the "noise" around Australia's offshore processing.
But Thomas Barara, a director with Loda Security, which has since merged with PASS Security, said his company was not approached for the work. Loda had worked on Manus Island as a subcontractor under Wilson and Broadspectrum until last year, Barara said.
"Loda Security was not approached," Barara told Guardian Australia. '"However, we respect the decision of both Australian Border Protection [sic] and PNG Immigration and Citizenship Authority (PNGICA) due to our long-standing relationship while we were engaged at the regional processing centre in Lombrum navy base.
"We understand that ABF and PNGICA seriously considered national content and landowners issues before awarding of the contract to Paladin due to past experiences at Lombrum navy base.
"If we were approached by ABF, we most certainly would have engaged with our business partners and follow the similar business arrangements Paladin Solutions took to ensure local business and landowner participation was recognised."
Loda Security stressed that it understood and respected the department's decision and wished to maintain its relationship with the Australian and PNG authorities "while looking forward to participate in future contracts in Manus should opportunities become available again".
Loda Security was not a large company, and Guardian Australia is not suggesting it was more or less suitable than Paladin for the work. But the comments again raise questions about the way the department ran the procurement process in an effectively closed manner.
The Department of Home Affairs said it faced urgent circumstances in awarding the contract to Paladin. Officials told Senate estimates that the government of Papua New Guinea had signalled it would take over the work, before changing its position months later.
It said Paladin was approached directly for a quote because major companies were not interested in tendering.
"They [Paladin] have worked on Manus Island as a contractor to Wilson and also to [construction and engineering firm] Decmil since 2013," Cheryl-anne Moy, a departmental deputy secretary, said.
"Paladin Group and Paladin Solutions have had quite a bit of contact in regard to Manus Island work and working in that particular environment. As for the actual work that we undertake with Paladin, as I said, they were working with Decmil, Wilson Security and Broadspectrum."
The department was approached for comment.
We made a choice…
… and we want to tell you about it. Our journalism now reaches record numbers around the world and more than a million people have supported our reporting. We continue to face financial challenges but, unlike many news organisations, we haven't put up a paywall. We want our journalism to remain accessible to all, regardless of where they live or what they can afford.
This is The Guardian's model for open, independent journalism: free for those who can't afford it, supported by those who can. Readers' support powers our work, safeguarding our essential editorial independence. This means the responsibility of protecting independent journalism is shared, enabling us all to feel empowered to bring about real change in the world. Your support gives Guardian journalists the time, space and freedom to report with tenacity and rigour, to shed light where others won't. It emboldens us to challenge authority and question the status quo. And by keeping all of our journalism free and open to all, we can foster inclusivity, diversity, make space for debate, inspire conversation – so more people have access to accurate information with integrity at its heart.
Guardian journalism is rooted in facts with a progressive perspective on the world. We are editorially independent, meaning we set our own agenda. Our journalism is free from commercial bias and not influenced by billionaire owners, politicians or shareholders. No one steers our opinion. At a time when there are so few sources of information you can really trust, this is vital as it enables us to give a voice to those less heard, challenge the powerful and hold them to account. Your support means we can keep investigating and exploring the critical issues of our time.
Our model allows people to support us in a way that works for them. Every time a reader like you makes a contribution to The Guardian, no matter how big or small, it goes directly into funding our journalism. But we need to build on this support for the years ahead.
["source=theguardian"]